• 2003LDF • 361 • CoastalInteriors • Kitchens • LivingRoomDesign • Mcrr6428 • OnlineInteriorDesignServices • PaintColorIdeas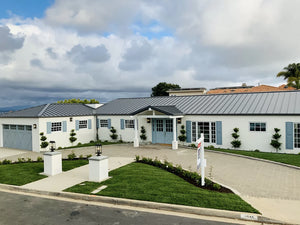 Be prepared to fall in love with this California ranch-style home! Located in La Jolla, CA, and built by The Meter Company and interiors by AGK Design Studio (make sure to check the builder's and the designer's work at their website), this home perfectly blends elegance and craftsmanship in a very special way. You would be impressed by the gorgeous exterior if you went for a walk and saw this stunning home. Featuring Modern Farmhouse influences with a metal roof and an inviting Portico, this home seems to invite you into its bright and airy interiors. This home beautifully represents...
---
• KitchenOfTheWeek • Kitchens • KitchenStorage • Nautical • NewEngland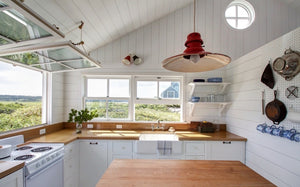 Last summer Julie and Justine stopped into a Cape Cod beach house reimagined by college roommates Tei Carpenter (an architect) and Victoria Birch (an interior designer), inspired by the Belafonte, Steve Zissou's boat in The Life Aquatic. The kitchen is filled with design ideas to steal; let's zoom in closer. Photography by Justine Hand for Remodelista. Above: The light fixtures are all vintage; a double sconce from Amsterdam and a red barn light from 1st Dibs (for something similar, look to Barn Light Electric). The countertops are oak finished with a marine varnish. On the white electric range sits a Kaiko One-Handle...