• Bread • BreakfastAndBrunch • Easter • Recipes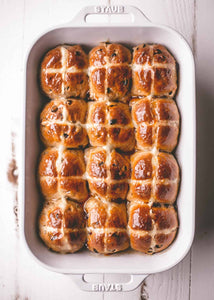 The past year has really been all about bread for me. Oh….and the garden. Bread and gardening. And all the highs and lows that have come with both those things. I have made countless loaves of no-knead bread and beer bread. And even occasionally dabbled in the intimidating world of sourdough. (BTW last year I took an online sourdough class at Dig+Co with my mom, and it was great.)  But once I find a bread recipe that works well for me, I'm more likely to rework it into new iterations than to try something completely new. And the first time I...
---
If you're from Upstate NY then you know all about Freihofer's baked goods. They're sold in practically every single gas station and grocery store from the Canadian border down to Albany, and probably further south than that. If you're not from Upstate NY, Entenmann's is another common brand, and I believe they are, or at one point were owned by the same company. (Did research, both brands now owned by the Mexican conglomerate Bimbo). Every year around Easter Freihofer's would come out with two variations of Hot Cross Buns. The traditional ones that are basically raisin bread rolls with a...
---
• 1 • 2 • 3 • 4 • BakingRecipes • Easter • EasterBaking • EasterBrunchRecipes • Sweet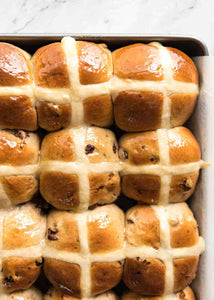 Plus, a bonus no-knead version – the world's easiest hot cross buns recipe! Hot Cross Buns Big, fluffy, fragrant Hot Cross Buns just like what you get from your favourite bakery are easier to make than you think. Especially if you have a stand mixer. Homemade Hot Cross Buns become a dump-and-mix job to make the dough. Definitely my preferred method! These Hot Cross Buns are way better than the stock standard ones you buy from grocery stores. Those are pumped with preservatives and have a distinct artificial flavour about them. Once you've tried homemade, you will never go back. I haven't! What...
---
• Bread • Chocolate • Easter • eatlittlebird • Morning • Yeast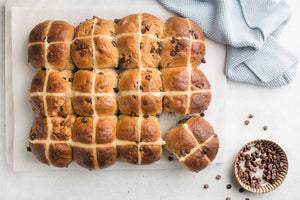 Recipe with step-by-step photos. Hot Cross Buns There are so many baking choices at Easter, and Hot Cross Buns are a must for me. My Easter Egg Nest Cake is also an annual treat for us which I like to make on Easter Sunday. But Hot Cross Buns are something I try to make at least twice during the Easter period so we can enjoy them at breakfast, morning tea and afternoon tea. We just never tire of them at Easter! Chocolate Chip Hot Cross Buns I was hoping to make my regular Hot Cross Buns this year, but poor...
---
• Easter • HotCrossBuns
I don't know about you, but every year I look forward to Easter.  The main reason of course is because of what it represents, and as a Christian it is a huge celebration for myself and my family. However, I have to be honest and admit that the other reason I look forward to Easter, is because of the Hot Cross Buns.  My word. It's not like I can't make them any other time of the year, but truthfully, I don't.  I make them once a year and that's it, so we always look forward to them, my daughter especially...