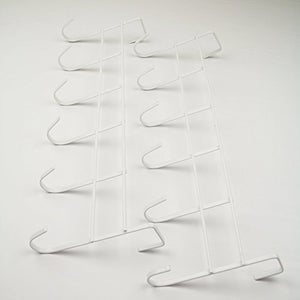 Premium Over The Door 6 Hooks Organizer Rack, White Finish, Great for Coats, Bath Towel, Childrens Room, Cubicle, Kitchen, Kids backpacks, Robes, Ties, Hats, No mounting Hardware needed -2 Racks
Regular price
$12.99
$0.00
OVER THE DOOR HOOK RACK is perfect for anyone who needs more hanging space
NO SCRATCHES On Your Door – Durable flex Vinyl Finish
6 HOOKS Great for Coats, Hats, Kitchen and Bath Towels, Robes, Jackets, Kid's Backpacks, Ties
WORKS nicely in the kitchen, bathroom,laundry room, bedroom, office cubicle, anywhere more storage or an organizer rack is needed.
EASILY installs in 5 Seconds Flat! Flexible Bracket that fits doors up to 1.25 inch thick No Hardware or Tools Needed
Premium Over The Door 6 Hooks Organizer Rack, White Finish, Great for Coats, Bath Towel, Children's Room, Cubicle, Kitchen, Kid's backpacks, Robes, Ties, Hats, No mounting Hardware needed. Item Dimensions: 18 inches long, 5.75 inches high, and 3.5 inches wide.
Kitchen Kahuna Amazon ASIN B00PBG9VIA Tools & Home Improvement Hardware, Bathroom Hardware, Robe & Towel Hooks