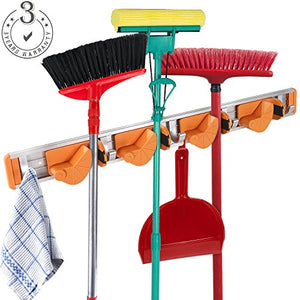 Mop and Broom Holder Garage Storage Systems and Garden Tool Storage Rack,Wall Mounted Aluminium Alloy Towel Hook Rack Adjustable Broom Organizer (3 Position with 4 Hooks, Black)
Regular price
$0.97
$0.00
ADJUSTABLE-This is a Wall Mounted Broom Holderthe buckle can be adjusted angle, so it can hold the mop rod with a variety of diameters (1.5~3.5 cm ).There are 4 friction-grips and 5 hooks that can be Sliding around if needed- so you can keep your mops, brooms, etc out of visual site.
NTI SKID DEVICE-It has rubber grips on sides of the buckle so it holds items very well. 100% tests approved that It can hold heavy or light items but won't let them slide downIt will be you very nice organization systems.
COMPACT SIZING AND STURDINESS-Made from aluminum alloy and tough ABS plastic, Each friction-grips holds up to 7-12 pounds of weight which means that this is extremely easy to use and can hold even the heaviest of tools. Life-time Guarantee.
STORAGE CONVENIENTLY-It can be used anywhere such as in the garage, garden, kitchen, laundry, offices and so on.It's a great storage tool rackgarden tool storage and towel hook rack.It is strong, sturdy, long lasting and weatherproof.
EASY AND FAST TO INSTALL-It mounts super easy and takes just 2 screws with anchors to ensure that it will be strong enough to hold whatever you want to place in the buckle hook.
The timeless design and long-lasting quality of Mom's Box make everyday life more enjoyable.
HEYANG Amazon ASIN B075H9K5LY Tools & Home Improvement Storage & Home Organization, Garage Storage