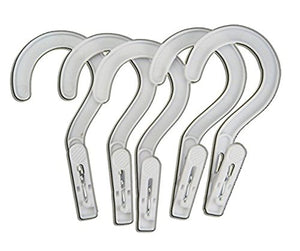 McKay 15 Pc Portable Laundry Hanger Clothespins with Spring Clip Hooks, Outdoor Hang Drying Clothing, For Home or Travel - Air Dry, Drip Dry
Regular price
$9.99
$0.00
SUPER STRONG GRIP: Ridged inner grip help keep your clothes in place.
MULTIFUNCTIONAL: Brilliant for paperwork, clothing, towels & many more things! Strong enough for hanging out boots, etc. Great for crafts too.
AIR DRY WITH STYLE: Hanger-style loop head that fits over closet rods, towel bars, door knobs, wall hooks, and clotheslines.
EXPAND YOUR HOME DRYING SPACE. From over the bathroom shower rail to the oven handle in the kitchen, these hooks fit comfortably wherever easy air drying for wet clothes and accessories is required.
NOT JUST FOR LAUNDRY. These hooks are perfect for hanging gloves, socks, hats, scarves, hand towels, swim wear, under garments, wool socks, sweaters, and other delicate garments that are not suitable for machine drying. Or, you could get crafty and use these hooks for displaying holiday greeting cards, sachet envelopes, various artwork and other items.
" McKay 15 Pc Portable Laundry Hanger Clothespins with Spring Clip Hooks, Outdoor Hang Drying Clothing, For Home or Travel - Air Dry, Drip Dry"
McKay Amazon ASIN B01C383Z3A Home & Kitchen Storage & Organization, Laundry Storage & Organization, Clothes Pins