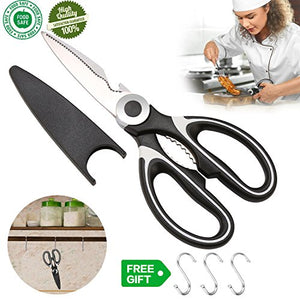 Kitchen Shears Poultry Heavy Duty Stainless Steel Kitchen Scissors Dishwasher Safe Professional Ergonomic Long Light Scissor Large Handle Ultra Sharp With Cover For Cutting Chicken Food Meat (black)
Regular price
$9.99
$0.00
GREAT FOR CUTTING THROUGH ANYTHING IN THE KITCHEN: Kitchen shears are very sharp. You can now easily cut various foods such as meats, vegetables, cutting up foods for your kids like pizza and pasta, it is also perfect for cutting herbs, branches of rose, and could also be used in the garden.
ESAY TO HANDLE: This kitchen scissors cut very easily and it have a very comfortable handle. They feel awesome in your fingers; you will love it. Sturdy shears for kitchen food prep. Easily cut chicken, trim meats, faster and safer than a knife.
BOTTLE OPENER AND NUTCRACKER: Poultry shears have a built in bottle opener as well as a grip for opening jars. it is much easier to crack nuts using the nutcracker feature than using the old metal nutcrackers.
GREAT GIFT: You can surprise your loved ones with this as a perfect gift. scissors is great gift as a wedding present, birthday, mother day, Christmas day and so on. Enjoy life from awesome gifts.
LIFETIME WARRANTY: We guarantee you will love this scissors heavy duty forever. But if you're not satisfied for any reason, you can simply return this item and we guarantee 100% Back Money.
Kitchen Shears with Blade Cover, Stainless Scissors for cutting Herbs, Chicken, Meat and Vegetables.

The best professional designed poultry shears that deliver perfect performance in the kitchen or anywhere is it used outside. You will no longer have to struggle to cut through anything with this kitchen shears handy. It is designed in high quality steel and very sharp. You can now easily crack nuts using the nutcracker feature and can even be used as a bottle opener. This makes a perfect gift; you can surprise your loved ones with this as a perfect gift.

There should be no problem when it comes to how it should be cared for or how to clean it after using:
This Scissors is dishwasher safe, however we would suggest you hand wash and dry with a paper towel immediately to avoid rusting. After use, it could be easily hanged in the kitchen with the S Shaped Hook.

Functions:
1.It is great for cutting meat, vegetables, package, rose and so on.
2.For removing fish scales
3.Nut cracker
4.Bottle opener

Package includes:
1. Kitchen Scissors
2. S-Shaped Hook.

What are you waiting for Surprise your loved ones with this awesome scissors heavy duty. Order Now!
Zavito Amazon ASIN B0792Y435Y Home & Kitchen Kitchen & Dining , Cutlery & Knife Accessories , Shears