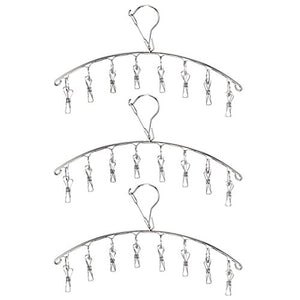 KEREITH 3Pack Sock Dryer Hanger Laundry Drying Rack Indoor Outdoor Drip Hanger with 10 Pegs Drying Towels, Diapers, Baby Clothes,Underwear, Glves,Delicate Bras(3pack Laundry pegs)
Regular price
$15.32
$0.00
4.0mm Heavy Duty Stainless Steel,sturdy Rustproof Windproof
Great handy laundry Airer Dryer with 10Pegs : the drip hanger is great for undergarments, socks, baby clothes, diapers,towel,robe belts and other small items. The sock dryer keeps them from falling off the line, saves space, and works well both indoor & outdoor. You can also use the drying rack to organize your closet,use them in a closet to hang ties, belts etc
Windproof clip on the hanger hook: so you can hang them to dry outside. They are a good size to use inside the portable dryer or hang on shower curtain rod, clothesline or garment rack, The fact they are flat makes them very versatile. They stack/hang nicely in the closet to hang small delicate items.
High Quality: Heavy Duty in 4mm thick STAINLESS STEEL,sturdy,windproof,rustproof for long time lasts. The clips hold securely and release easily.this clothes drying rack provide you with the perfect place to hang up socks, bras, diaper covers, towel, undergarments, scarf, panties, gloves, handkerchiefs, baby clothes, and other delicate washables as they drip dry.
EASY TO CARRY When Travelling: Flat,Lightweight design is good for camping, caravanning or on holiday travel.BOTH INDOOR AND OUTDOOR USE: You can use this baby clothes hanger with ease in the laundry room, bathroom and garden or wherever you go.
SPACE SAVING - You won't face short of hangers and take up more space problems using these hangers! Each hanger has 10 pegs/clips attached.This 10 Pegs Clothes Hanger is convenient and easy when it comes to hanging and drying delicate clothes and garments.

Package Included: 

3pcs*drying rack (each hanger with 10pegs/clips)

Save Energy, Money, and Clothes : 
High Quality: Heavy Duty in 4mm thick STAINLESS STEEL,sturdy,windproof,rustproof for long time lasts. The clips hold securely and release easily.this clothes drying rack provide you with the perfect place to hang up socks, bras, diaper covers, towel, undergarments, scarf, panties, gloves, handkerchiefs, baby clothes, and other delicate washables as they drip dry. 

No More Slippage, Windproof, Rustproof: 

Windproof clip on the hanger hook: so you can hang them to dry outside. They are a good size to use inside the portable dryer. The fact they are flat makes them very versatile. They stack/hang nicely in the closet to hang small delicate items.
 
Special Design: 

The Racks is designed like a beautiful line which would decorate your house. SPACE SAVING - You won't face short of hangers and take up more space problems using these hangers! 

The Worth Choice: 

Great handy laundry dryer with 10Pegs : the drip hanger is great for undergarments, socks, baby clothes, diapers,towel,robe belts and other small items. The sock dryer keeps them from falling off the line, saves space, and works well both indoor & outdoor. You can also use the drying rack to organize your closet,use them in a closet to hang ties, belts etc

KEREITH Amazon ASIN B07BGWNV1J Home & Kitchen Storage & Organization , Laundry Storage & Organization , Laundry Baskets