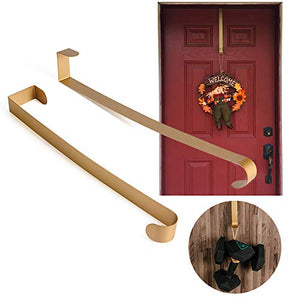 Joy&Leo 2 Pack 14 Inch Gold Metal Door Wreath Hanger for Halloween & Christmas Wreath, Ultra-Thin & Heavy Duty (22 lb Max), Over The Door Utility Hook for Backpack Handbag Clothes Christmas Ornaments
Regular price
$0.97
$0.00
1. Sturdy and Well Made for a Heavy Duty Wreath. No bending. No wreath falling off. No scratches on the door. 22 lb Max (10 kg).
2. Super-thin Design: Fit the door well. Ensure you can open and close your door correctly again. Thickness:1/32inch.
3. Perfect Fit for Door - 1.97 inches thick or less: The hanger fits snuggly over the door and do not hear any scraping sounds when opening or closing the door.
4. Perfect Fit for Christmas Wreath and Halloween wreath. The wreath fit on the hook well and has no issues with wreath falling off.
5. Multi-function and Space-saving. To improve door space utilization, use it indoors to hang a bag, handbag, towels, clothes, a painting, welcome sign, Christmas ornaments and Christmas decorations.
Joy-Leo Amazon ASIN B07J4XYG7N Home & Kitchen Home Décor , Home Décor Accents , Wreath Hangers