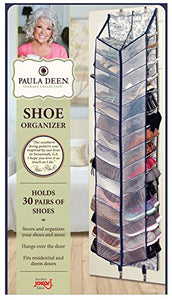 Jokari Paula Deen Shoe Organizer - Over The Door 30 Pocket Shoes Storage with Large Compartments for Side by Side Storage - Fits Any Standard Door & Easy to Attach Inside Your Closet
Regular price
$39.99
$0.00
HANGING DOOR ORGANZIER with 30 extra large shoe compartments creates a comfortable space for women and men's shoe storage.
ORGANIZE your shoes, unclutter your bedroom, living room by creating a designated space for all your shoes. The organizer can also be used for toys, towels, scarves, belts, and socks.
DESIGN is light, roomy and traditional, easy to lift to attach. The mesh compartment allows for easy visibility. The pockets are designed at a down slope to keep the shoes in place.
EASY ATTACHMENT by hooking the top hooks onto the door and attaching the bottom ones. Ready to organize.
SATISFACTION GUARANTEE 30 day money back on all Jokari products.
Are your shoes a mess  Is your space cluttered with shoesOrganize your shoes with our Over the Door Shoe Organizer by Paula Deen
The organizer fits 30 pairs of shoes comfortably with 15 compartments facing each other.
The individual compartments are large enough to hold toys, towels, gym clothing and can be used for any type of storage.
Easy to attach to any standard size door by sliding the top and bottom hooks onto the door. The bottom hooks are attached with elastic to ensure the organizer fits.
The pockets are facing down to prevent shoes from falling out.
A bonus string is attached to the door handle the prevent the storage unit from swinging and to keep it in place.
Instead of a clear simple design, Paula Deen opted for a more traditional design in white and blue.
 Enjoy organizing with our unique Paula Deen shoe rack.
Jokari Amazon ASIN B0798WW67M Home & Kitchen Storage & Organization , Clothing & Closet Storage , Closet Systems