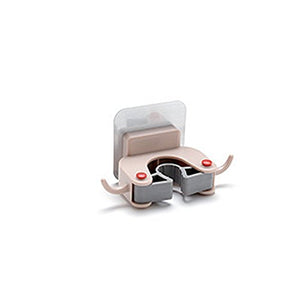 Everyfit Broom Mop Holder Broom Gripper? Traceless Sucker Hook? Wall Mount Tools Storage? Kitchen Bathroom Tool Organizer Suction Cup Storage Rack No Drilling Anti-Slip (Pink)
Regular price
$5.69
$0.00
.With the roller clip. Easy to install, just peel off the protective layer in the back and stick it on the desired position.
.Removes cleanly - no holes, marks, sticky residue or stains.
.Waterproof, super adhesion.In the load range, firmly grip the object, not easy to slip.
.Small hooks on both sides for easy hanging of towels, brushes, bath balls and other small objects.
.The Holder Fit for Home,Kitchen,Garage,Garden,Bathroom,office and Anywhere Needed, Hang Your Cleaner Tools, Dust Pan, Swiffer, Umbrella, Baseball Bat,Golf Brassie etc.
Description:
1.With the roller clip. Easy to install, just peel off the protective layer in the back and stick it on the desired position.
3.Removes cleanly - no holes, marks, sticky residue or stains.
4.Waterproof, super adhesion.In the load range, firmly grip the object, not easy to slip.
5.Small hooks on both sides for easy hanging of towels, brushes, bath balls and other small objects.
6.The Holder Fit for Home,Kitchen,Garage,Garden,Bathroom,office and Anywhere Needed, Hang Your Cleaner Tools, Dust Pan, Swiffer, Umbrella, Baseball Bat,Golf Brassie etc.

Instructions
1. clean the wall, be sure to remove dust, grease and water etc.
2. the adhesive film can be directly adhered to the wall after removal of the protective film.
3. press lightly with hand and let Broom Mop Holder fully touch the wall.

Specifications:
Material: ABS
Overall: Width: 11.5cm
Height: 6cm
Scarless Patch: 6.5cm
Color: Pink/ Green/ Blue/ White

Note
Keep away from fire, avoid direct sunlight, so as not to shorten the life of the product!

Package included:
1 X Mop Holder Traceless Sucker
Everyfit Amazon ASIN B07C7J81G4 Health & Household Household Supplies , Cleaning Tools , Mopping , Accessories , Mop Handles