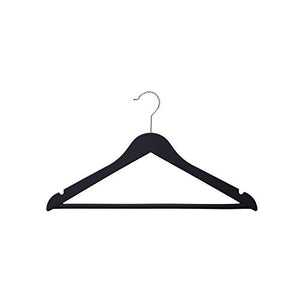 Black Heavy Duty Wood-Like Rubber Coated Suit Hanger (24 Pack)
Regular price
$0.97
$0.00
Rubber coating surface to prevent slipage. Notched shoulders for added hanging security.
For both indoor use and outdoor use. New durable plastic to prevent breakage.
With chrome finished swivel hook. Coated with environmentally friendly paint.
Great for hanging heavy coats, pants, strappy dresses, and silky tops. Sturdy design can hold up to 10 lbs.
Model # SDB-8804
Strong and durable Wood-like Rubber Coated hanger is made of new durable plastic, instead of wood. So, it is suitable for both indoor use and outdoor use and can prevent breakage, fracture and damp. Features a 360° chrome, swivel rod hook to hang items easily on any closet rod, towel bar, or standard size door. Durable metal construction provides strength, reliability, and long-lasting beauty. Rubber coated non-slip body and bar to hang many garments and slacks and keep them in place.Soft rubber coating is gentle on delicate garments and provides a non-slip surface that holds fabrics beautifully in place.Pronounced curves on the shoulders will keep your garment crisp and in its original shape.
HDX Amazon ASIN B07G8FH7SQ Home & Kitchen Storage & Organization , Clothing & Closet Storage , Clothes Hangers , Suit Hangers