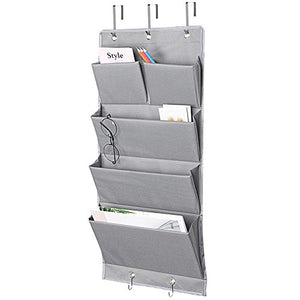 5 Pocket Over the Door Wall Mount Hanging Organizer Hanging Storage Organizer Hanging Wall Organizer Office Supplies Storage Saves Space for Baby Nursery,Closet,Children's Room or Office (Gray)
Regular price
$15.98
$0.00
[ SAVES SPACE AND KEEPS YOU ORGANIZED ] this Hanging Closet Organizer offers ample space for storing clothing and accessories like sweaters, towels, pajamas and hats, maximizing vertical space usage in your closet. The open design gives you a quick access to each category.
[ VERSATILE AND ATTRACTIVE ] Elegant and simple decorative design with neutral soft gray color to match more room decor. With a maximum weight load of 2kg (4.4lb) each,Useful simple houseware for almost any room in the house - bedroom, nursery, kids room, laundry room, playroom, living room, bathroom, kitchen or pantry.
[ PREMIUM CONSTRUCTION ] Made with sturdy metal door hooks, reinforced pocket bins, premium stitching, and non-woven breathable fabric. Its portable and slim design makes it perfect for applying in places where room is limited like a dorm or a travel trailer.
[ ACCESSIBLE STORAGE ] 4 bin pockets to store small bulkier items or personal items and accessories. Bottom inserts to help retain the pocket shape and help support stored items. Heavy duty hooks to hang the shelves firmly behind the door or on the wall.
[ MULTIFUNCTIONAL STORAGE SYSTEM ] Equipped with 3 shelving units measuring 40" inches high totally, 2 small pocket ,Keep rooms organized, clean, and items off of the floor. 2 hook in the bottom can hanging Umbrella, Handbag .Fit for standard door or closet rod, no hardware needed. Dimensions: 28 x 13 inches [ 100 x 33cm ].
Usage.space and clear the clutter off of counters, dressers, or floors for a tidy and safe home.

This smart space hanging organizer fit for home - bedroom, pantry, closet, bathroom, nursery, play room, or office.

spacious & easily access shelves
The over-the-door hanging organizer features 3 large pockets and 2 smaller pockets .
it's ideal for storing sweaters, shirts, pajamas, baby clothing, towels, blankets, accessories, etc. 2kg (4.4lb).
The open design gives you a quick access to each category.

Premium materials + Metal hooks
Our organizer is constructed with extra durable Non-Woven Fabric, premium stitching, soft,
breathable and non-irritating.Comes with metal hooks and Metal lined eyelets for strong and long-lasting support.

Collapsible and portable design
You can fold it up when you don't use it or when you need it for travel use. perfect for applying in
places where room is limited like a dorm or a travel trailer.

Easy to reach top pockets
Lower top pockets make them easier to reach than most other door hanging organizers on the market.

Kindly Note: for standard doors only(1.7in), it is not suitable for extra thick doors or sliding doors.

Each tier has an bottom plate insert to help retain shape and support stored items.

Specifications
Dimensions: 28 x 13 inches [ 71x 33cm ]
Bottow pocket: 6.7 x 13 inches [ 17 x 33cm ]
2 middle pocket:4.5 x 13 inches [ 11.43 x 33cm ]
2 small pocket:5.9 x 4.5 inches [ 11.4 x 15cm ]

Perfect to store and access everyday essentials and keep living spaces organized.

Nursery - Diapers, baby clothes, bottles, and much more.

Kids Room - Toys, plushes, arts and craft supplies and more

Bedroom - Interior clothing, personal items and more

Living Room - Remotes, reading materials
JiatuA Amazon ASIN B07L1PDH7Y Home & Kitchen Storage & Organization , Clothing & Closet Storage , Hanging Shelves