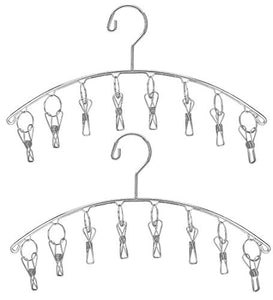 2 Pack Stainless Steel Laundry Hangers Clothes Drying Rack Hanger with 8 Clips for Drying Bras, Lingeries, Underwears, Socks, Towels, Scarfs, Baby Clothes, By Camkey
Regular price
$9.89
$0.00
This stainless steel clothes hanger with 8 clips is perfect for hanging and drying small and delicate clothes like bras, Lingeries, panties, underwears, socks, towels, scarfs, handkerchiefs and baby clothes, etc.
This hanger is made of premium stainless steel. It is anti-rust and sun-resistant. Treated by Argon Arc Welding its smooth surface will not scratch the clothes.
The clips are made of strong and durable springs that will not bend, snap or break. The clips are highly elastic and easy to open. They hold on clothes tightly with no-slip grip.
With 8 clips placed evenly under the welded rod it hangs up more clothes while occupying smaller space. The clips can also be detached seperately to hang laundry on a clothes line.
The large hook at the top is specially designed to resist wind. It's great for indoor and outdoor use.
Camkey Amazon ASIN B074S5CTYN Home & Kitchen Storage & Organization, Laundry Storage & Organization, Drying Racks