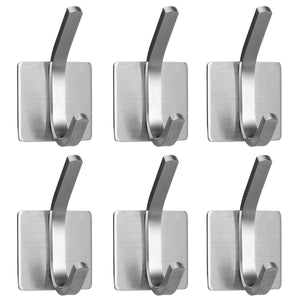 Self Adhesive Stainless Steel Hooks (6 pieces)
Regular price
$21.99
$0.00
Description
These hanging hooks are manufactured with premium 304 stainless steel for sturdy and durable use. Strong adhesive tape provides extra strength which enables the hook to firmly hold and not easy to fall off. Super strong adhesion performance allows for a maximum weight capacity of 3KG, so it can effortless hang your clothes, hats, scarves, towels and other sundries for the bathroom, bedroom, kitchen, utility room, etc. A great organizer to keep your space tidy and leave extra space!
Feature
- Brand: HOMEMAXS.
- Colour: Silver.
- Material: Stainless steel.
- Size: Approx. 4 x 4 x 3 cm / 1.6 x 1.6 x 1.2 inch (L x W x H).
- High load capacity: Crafted with premium 3M adhesive back tape, it can hold up to 3 kg/ 6.6 lbs of weight, strong enough to hold your items firmly and safely.
- Solid Construction: Made of 304 stainless steel, hard to rust and deform, sturdy and durable enough to last for many years. The towel hook uses non-slip design to prevent hanging items from falling.
- Easy installation. No need to drill through the wall, you just need to peel off the protective back film and paste it on smooth, clean and dry polished surface directly.
- Suitable for hanging coats, scarves, towels, bath balls, hats, etc. Works perfectly for the bathroom, bedroom, kitchen, living room, office and so on.
-Easy to clean: Capable of resisting daily scratches, corrosion and tarnishing. Just wipe it slightly with a wet cloth if needed.
Installation instructions:
1. Wipe with a soft cloth for cleaning the wall.
2. Tear off the protective film on the back of the sticky hook.
3. Then install this product on the wall, pressure to discharge the air from inside to outside.
Precautions:
1. Before installation, please make sure that the wall is dustfree and dry. After cleaning the wall with water, you can blow dry by hair dryer.
2. After removing the protective film, do not touch the adhesive surface with your hands so as not to reduce the viscosity.
3. Be sure to align the position for one-time installation, do not adjust the position after installation.
4. After installation, do not rush to hang something, let it stay for 24 hours before using, which will make it more firm and solid.