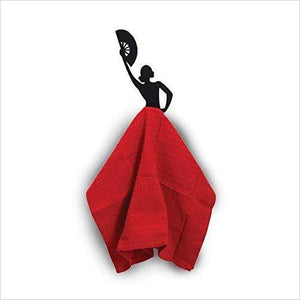 Flamenco Dancer - Metal Kitchen Towel Hanger
Regular price
$15.00
$0.00
Details: Enjoy a Different Look!
Enjoy a unique, different, and useful piece of art now with our flamingo towel hook that gets a new dress every time you change your towel or rag.

Keep Track in a Stylish Way!
Tired of constantly losing or misplacing your hand towels and rags? Get our Olé towel holder and keep track of your towel now, while at the same time keeping your style!

Bring Spain to your Home!
Our hand towel holder is not just any ordinary towel hanger, but also a beautiful Spanish dancer on your wall! Give your guests an illusion they will keep coming back for!

The Perfect Size:
Size: L 4.92'' x W 0.6'' x H 9.44'; Weight: 4.76 oz
Features:
✓ Dance with our olé hook in your kitchen: bring charm to your kitchen with our super trendy flamenco dancer towel hanger. Who knew a towel hook could be so decorative, useful and unique!
✓ Dress her up with clean towels: anytime you decide to wash your rag or hand towel, your flamenco dancer will get a new dress. A change of towel really just looks like a new dress!
✓ Easy installment: our flamenco hook can be easily glued to a smooth surface with the two-sided sticker that is included, and if you want, you can screw it into your wall!
✓ High quality, strong & long lasting: our olé hook will not rust due to its matt black finish and will last for years! It's the perfect gift for any occasion and adds such a fashionable look!
✓ Decorative purposes: whether it's in your workspace, kitchen, or bathroom, our decorative flamingo towel hanger is suitable and adds such a unique and different look!
Brand: Artori Design
Color: Black
Publisher: Artori Design
EAN: 7290015263535
Package Dimensions: 10.0 x 3.5 x 0.6 inches