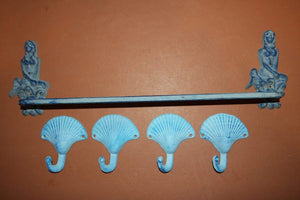 5) Vintage Look Mermaid Bath Decor, Mermaid Towel Bar Seahsell Towel Hooks Aqua Color Cast Iron Set of 5 pieces
Regular price
$52.98
$0.00
Vintage Look Aqua Color Mermaid Towel Bar and Seahorse Towel Hooks Bath Accessory Set.
Mermaid Towel Bar Rack is 21 inches long by 6 inches high.
Seashell Towel Hooks are 3 3/4 inches by 4 1/2 inches.
These are finished in a nice aqua color powder coat which inhibits rust. The shades of aqua will vary between the mermaid towel rack and the towel hooks.
FREE U.S. Shipping. Order today and your purchase will ship first thing tomorrow morning via priority mail. (Regular shipping days)
There are holes on each piece for mounting to a flat surface. We do not provide hardware. You can use any type of standard screw.
1 of N-12
4 of N-21